Adda52 Rummy returns with Indian Rummy Challenge, 2018 at Deltin Royale, Goa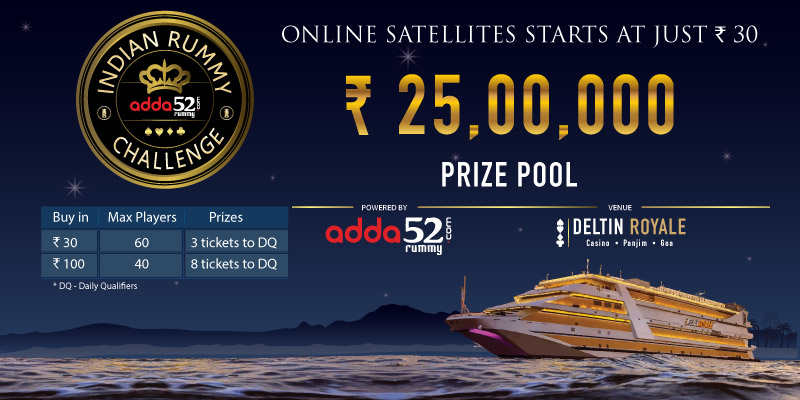 Adda52 Rummy proudly announces the return of India's biggest offline rummy tournament- Indian Rummy Challenge which will be held on 14th and 15th July, 2018. Deltin Royale – the luxurious casino cruise ship in Goa will once again play host to the next edition of this outstanding event.
The total prize pool of the tournament is Rs. 25,00,000 and the 1st winner will receive colossal cash prize worth Rs. 10,00,000.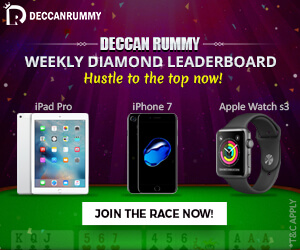 IRC's last edition was held as a part of WGF (World Gaming Festival) in December 2017 which proved to be a phenomenal success. The event took place at Deltin Royale and witnessed great participation from well-known professional players as well as amateurs from all over India. The top finisher in the multi-table Main Event was Vikesh Divakaran who amazed opponents and spectators with his level of skills and took home Rs. 10,00,000 as the grand prize.
Divakaran won the Main Event seat by participating in the online satellite tournaments hosted by Adda52 Rummy and knocking out the tough competition. The 2nd finisher was Rajasekhara Reddy who played with great intensity and poise. He exhibited a true fighting spirit and won the 2nd cash prize worth Rs. 5,00,000.
This year, the highly anticipated tournament is again expected to continue the run of success and see a great number of registrations from across the country. It is not just the huge prize money that attracts rummy players to IRC, it is the opportunity to fulfil their dream of showcasing their talent and skills on one of the most popular live gaming platforms in India that drives them to join this wonderful gaming event.
How To Earn Ticket to Indian Rummy Challenge Main Event
Adda52 Rummy is hosting online satellites where players can participate daily and win tickets to the Daily Qualifier tournament. The winners of the Daily Qualifier will get the opportunity to play the IRC Main Event live at Deltin Royale in Goa.
The IRC Main Event package consists of the following:
Entry ticket to play IRC Main Event 2018 live at Deltin Royale in Goa.
Flight expenses
Accommodation in cruise.
Players can join any of the following satellite tournaments to win a spot in the Daily Qualifier tournament:
Super Satellites
Super satellite tournaments are running daily every hour from 9 AM to 7 PM on the website which players can join with just Rs. 100 buy-in. Each tournament will award the top 2 finishers the ticket to Daily Qualifier.
Turbo Satellites
Turbo satellites are running daily on the website in every 30 minutes (from 9:15 AM to 7:15 PM) where players can participate with just Rs. 30. The top 2 winners of each tournament will get tickets to Daily Qualifier.
Winners of Super Satellites and Turbo Satellites will get the chance to play Daily Qualifier tournament which is happening at 9:30 PM every day on the website. Everyday top 2 finishers will get the ticket to IRC Main Event.
For players who want to join Daily Qualifier without playing satellites, direct entry option is available and they can register themselves for Daily Qualifier with Rs. 2500 entry fees.
The website is providing 2 tickets to IRC Main event on weekdays and 3 tickets on weekends.
Terms and Conditions for the IRC Main Event Satellites:
Every individual player is eligible to get only one ticket to the IRC Main Event.
Adda52 Rummy's terms and conditions will override the terms and conditions of IRC satellite promotion.
The dates of the satellites and the final event are subject to change without prior notice.
Decision of the management is final and binding in case of any disputes related to distribution of tickets .
Players who qualify through satellite promotions to IRC Main Event give their consent that their real name, alias name, images, Quotes and amount won can be used for online and offline promotions of all properties of Adda52 Rummy.
So, do you have what it takes to become a champion at the IRC tournament? Do you consider yourself a proficient player who never collapses under the pressure of the game?
If yes, then this is the perfect chance to put your rummy skills to the test. Register yourself on Adda52 Rummy to display your talent in this spectacular event and steal the cash prize along with the title of IRC Champion.
Disclaimer: This post is a sponsored post and does not necessarily reflect the views or opinions of the authors of this website. Readers may treat this as an advertorial.