Online rummy gets more competitive with entry of large players; Foreign Direct Investment in skill games remains a grey area

The online rummy space is set to grow more competitive with an aggressive foray in the online rummy space by 6-7 new online rummy websites, who are looking to disrupt the market with new out of the box strategies.
After its acquisition by Delta Corp, leading poker website Adda52 has also now started focusing on developing their online rummy platform. Anuj Gupta, CEO and Founder of Adda52 affirmed that the company has now focused a lot more on developing their rummy product. "While we launched our online rummy product around 3 years ago, with the acquisition by Delta Corp and support given by them, we now have greater bandwidth and financial budget to foray aggressively into the online rummy space. When we launched, there were already established players in the online rummy space. After establishing leadership position in poker, we have now decided to focus on rummy. We have attracted a fair amount of traction in the last few months with our renewed focus on rummy and we aim to become a prominent player in the rummy space in the coming days" says Gupta.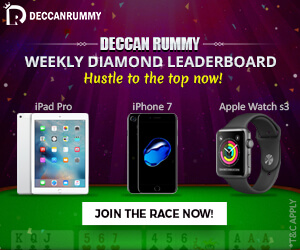 While there were some news reports about Delta Corp's acquisition of leading rummy website Ace2three in September 2016, it seems that the deal may not go ahead as originally planned. It is understood that the Delta Corp management believed that the acquisition of Ace2three may not make strategic sense since Adda52 has already been focusing on growing its rummy product.
Further, it is believed that it would make strategic sense to have a synergy between the poker and rummy products under the same brand name. Another reason why the deal between Delta Corp and Ace2three has not been announced could be because of the high valuation of around $80-100 million, which sources say is not justified as online rummy is not growing at the same pace as poker.
Apart from Adda52, several other rummy websites have mushroomed over the past couple of years. One of such websites that is visible on social media and regional channels is Mumbai-based khelplayrummy.com. PK Jain, Head of Operations of Sachar Gaming, which operates khelplayrummy.com said, "Although we started offering real money online rummy only around 3 years ago, we have been expanding our player base at a rapid pace. We have also started advertising on regional television channels, radio and print media and hope to assume leadership position in the next couple of years."
Another website which has major plans of expansion is Lucknow-based Club Empire. The company started operations in 2015 and has now started focusing on growing their customer base. Club Empire uses a balance between "promotion, public relations, adding a personal touch and corporate social responsibility to distinguish themselves from others" says co-founder Swapnil Chaturvedi.
While there are not many question marks about the legality of online rummy, as the Supreme Court, several High Courts and legislations have recognised rummy as a 'game of skill' and permitted wagering or staking of money on the game, an area of concern is investments made by big venture capital firms like Tiger Global and Matrix in online rummy companies.
The current Foreign Direct Investment (FDI) policy prohibits FDI in gambling and betting including casinos etc. Further, foreign technology collaboration in any form including licensing for franchise, trademark, brand name, management contract is also prohibited in the lottery, gambling and betting businesses.
Arguably, online rummy or other skill games like poker and fantasy sports could fall outside the definition of gambling since it has been categorised as a game of skill by state legislations and judicial precedents. However, the word betting may have a broader import and include even staking of money or wagering on games of skill. What could also complicate matters further for online skill game companies having foreign investment is insertion of the word 'etc.' in the FDI Policy vide an amendment by the Reserve Bank of India (RBI) in 2014, which could give a broad meaning to the word 'betting' and potentially include wagering or staking of money on online skill games within the prohibited list of sectors as well.
In fact, Nagaland, which is the only state to expressly pass a legislation to regulate and licence online skill games requires that controlling stake, executive decision making as well as technology support be based in India, implying that FDI in this area could face legal challenges.
Many legal and industry experts agree that while there is not much doubt about the legality of the online rummy business model, foreign investment in this space could face scrutiny from the authorities and this is more likely if there are big ticket investments by International investors or gaming companies.
In fact, it is understood that the two leading rummy websites, Ace2three and Rummycircle had in the past received communications from the RBI regarding investments in their companies from foreign funds like Tiger Global and Matrix. It is unclear whether RBI has initiated any further action in the matter or whether it is currently looking at the matter.
Since the legality of FDI in online skill games is not completely clear, foreign venture capital funds or investors that are looking to invest in online rummy or other gaming sites at high valuations may face questions from the RBI or the Central government. An amendment to the FDI circular or a court ruling might be the only solution to bring complete clarity to this issue.