Everything you need to know about online rummy [Sponsored]
If you are a rummy enthusiast or just want to know more about the game, this article will help you out in getting an in depth knowledge. In this article, we have included the legality of playing rummy in India, rummy rules as well as how to play rummy if you are an amateur. Let's start with the legality of rummy as that is what every rummy game enthusiast is worried about since the time the game went online.
In an order dated 13th August 2015, Supreme Court has overruled Madras High Court verdict saying online rummy for cash is not gambling but a game of skills. The rule will also allow you to play on your favorite online rummy website without any concern of legal issues as only games of chance falls into the category of gambling. If you were cynical whether to play or not because of the same, this is the best time to create your account and start playing online rummy.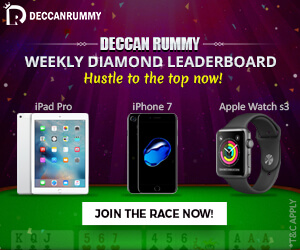 Now getting to the rummy rules, if you are a new player, you need to know rules of the game that makes this game of skills so exciting. The game is played with 2 to 6 players with standard 52 cards deck. If more than 2 players are playing, two decks are used. According to rummy rules, the game starts when the dealer starts dealing 13 cards to each player.
The objective of the game is to make melds (sets or sequences) from the cards in your hand. You can make melds easily by using Joker cards but a pure sequence (a sequence without Joker or wildcard) is compulsory while you declare.
If you are concerned about how to play rummy, after the dealer deals you the card, you have to play strategically and discard the cards that won't help you make sets or sequences and pick a card on each turn which will increase your hand strength. For instance, if you don't have good hand at the start of the game, you can use your wildcards or Joker cards skillfully so that you can declare the game with a minimum of one pure sequence.
If you want to learn the basic rummy rules, join any online rummy website and practice your skills on free tables. Most of the rummy websites nowadays provide a quick overview on rules of the game as well as tips and tricks on how to play rummy. Also, don't forget to claim your free welcome bonus when you join any of these websites.
Disclaimer: This post is a sponsored post and does not reflect the views or opinions of the authors of this website. Readers may treat this as an advertorial.