First of its kind seminar for skill games industry and players on 10th June in Mumbai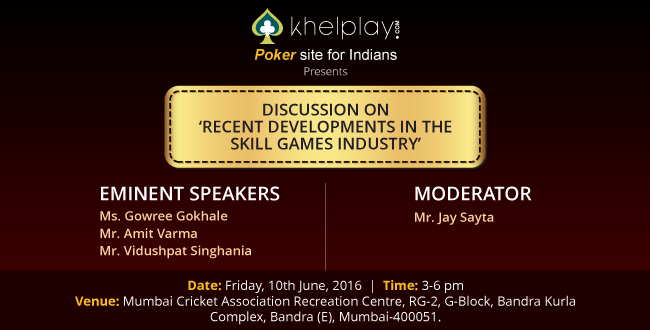 Poker, rummy and fantasy sports players and operators in India face various problems. Several questions that the poker community faces includes questions about the legality of the sport, TDS, service and income tax issues, doubts regarding foreign remittances, non-payment of dues by online and offline poker operators  and impact of recent events including a law introduced by the Nagaland government to regulate online skill games.
In order to dispel myths about the skill games industry and discuss the progress in this interesting space, Khelplay.com along with Glaws.in is pleased to host a unique conclave on 'Recent Developments in the Skill Games Industry' at the MCA Recreation Centre in Mumbai on Friday, 10th June, 2016 from 3-6 pm.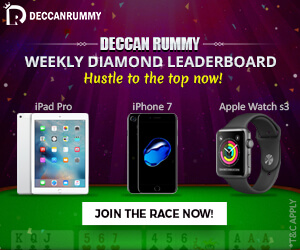 Gowree Gokhale, Senior Partner of Nishith Desai Associates, one of the leading law firms in India; Amit Varma, one of India's most respected journalists and a former poker player and Vidushpat Singhania, a sports lawyer are the esteemed speakers who have agreed to be part of the panel to have a free and frank discussion with the poker community and address a wide range of issues.
Jay Sayta, founder of Glaws.in, India's first and only website on gaming laws will be the moderator for the seminar. The panel discussion will be followed by a Q&A and networking session.
Agenda for discussion-
-Implications of the Nagaland Online Games of Skill Act and its implications on poker, rummy and other skill games operators- critically analysing the new Act and licensing guidelines.
– Recent judicial developments including withdrawal of the case on the legality of online poker in the Delhi High Court.
– Protection for players against fraud, rigging, cheating or non-payment of dues by operators.
-Need for joint collaborative efforts under an umbrella organisation to unite players and form guidelines that ought to be followed by all operators
– Taxation issues (Income tax/TDS and service tax) faced by operators
– Taxation and FEMA issued faced by skill games players
Who should attend?
The first of its kind seminar should not be missed by poker, rummy, fantasy sports and other skill games players and operators in order to understand whether all laws are being complied with, grasp the complex tax structure and foreign remittance regime as also to understand the updates and recent events that have changed this industry.
How to attend?
The closed-door event is only for invitees and is free to attend for a limited number of persons. To get an invitation to attend the event, you need to make a deposit of Rs. 2000/-on Khelplay.com using the bonus code SKILL2016.
Once you make the deposit, you will get an email confirming your participation for the event. Since limited seats are available at the venue, registration will only be open for a limited duration, on a first-cum-first-served basis.